Views: 88
Read Time:
3 Minute, 1 Second
Ratti रत्ति or Jequirity bean, (Abrus precatorius), also called rosary pea, or Indian licorice, was the base of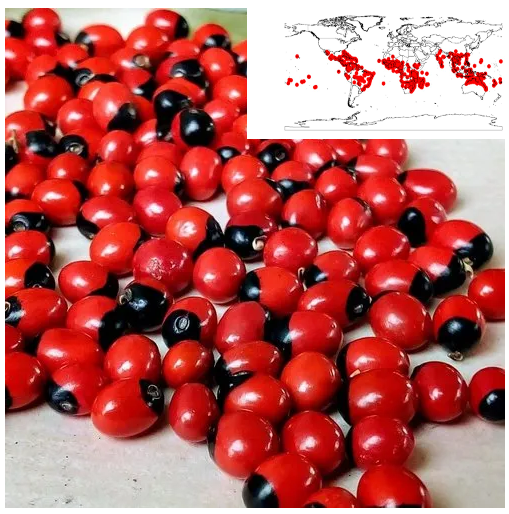 entire Ancient India's weight measurement system 5000 years ago.
1 Masha माशा (=8 Ratti ) weighs 0.89 gm a fundamental unit upon which entire measurement system was built.
Ratti (0.11 gm) is found in the world (dotted) with almost same weight making it IDEAL to serve as a standard unit of measurement.
Recent studies by Tata Institute proves tht Harappan weights are highly standardised with <6 % standard deviation.
The base 0.89 gm (Masha) was 
lowest weight. The commonly found weights were in the ratio 3000: 1600: 300: 200: 150: 60: 32: 16: 8: 4: 2: 1
Weight of 500+ various weight found at Harappan sites remained unchanged 4 700 years
PS: 𝗯𝗶𝗻𝗮𝗿𝘆 weights (Octenal) used 4 small quantities (eg carnelian, gold etc. ) while 𝗱𝗲𝗰𝗶𝗺𝗮𝗹 weights were used for of larger objects such as wheat, rice
jstor.org/stable/4171634…
The other weight standards were Egyptian's contemporary to Harappan standards.
Egyptians used decimally denominated weights such as 10:20:40:50:100:200 but not as accurately as Indus standards did.
jstor.org/stable/4171634…
Another weight system existed in Ur (Mesopotamia). Ur used
sexagecimal weights measurement system.
60 sheckels 1 minas
60 minas = 1 talent
1 Ur Mina was equal to 0.375286 Dilmun Minas
the equation  was decoded when Geoffrey 1970 interpreted the tablet from UR 1800 BCE which equates the Dilmun weight to UR.
It was also found Dilmun followed Indus valley system and probably intermediary to both weighing systems.
Ratti as a standard measurement weights continued to be used during Mauryan and Pre-Mauryan periods.
Satamana coin avg weight were 100 Rattis i.e. 11-12 g Mauryan Karshpana avg weight were 32 rattis-3.5 g
An ancient scientific measurement system which standardized trades for thousand years accurately across the continent was buried under time warp for the need to standardize everything. 
India standardized its measurement system based on International system of Units b/w 1955-1962. Indian Parliament passed "Standards of Weights and Measures Act" in December 1956 effective 1 October 1958
Ratti in National Museum, Delhi
Another phrase 16 सोलह अन्ना सच (or 16 Anna = 100%) is akin to weight measurement system existed in
#harrapan
civilisation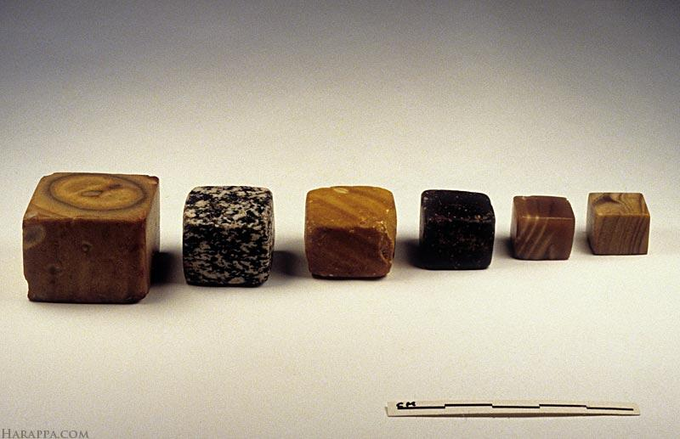 The various Cubical weights conform to the standard Harappan binary weight system The smallest weight in this series is 0.856 grams & the most common weight is approximately 13.7 grams, which is in the 16th ratio.